Are you staring out the window at the snow, missing your hummingbirds? Sure, chickadees, junco's and titmice are great but they just don't cause us to cheer out loud like we do when we see the first hummingbird in Spring. That's because hummingbirds are just plain amazing. If you get excited with the arrival of your hummingbirds, this list of sure cures is just what your doctor would order for your cabin fever. For medicinal purposes, only, of course.
1. Plan a hummingbird-filled vacation in the USA.
Here are some really cool places to learn about, see, and even hand-feed lots of hummingbirds. Whether it's a hummingbird banding, festival or an area known for high numbers of hummingbirds… any of them are known cures for cabin fever. Fire up the RV and call shotgun!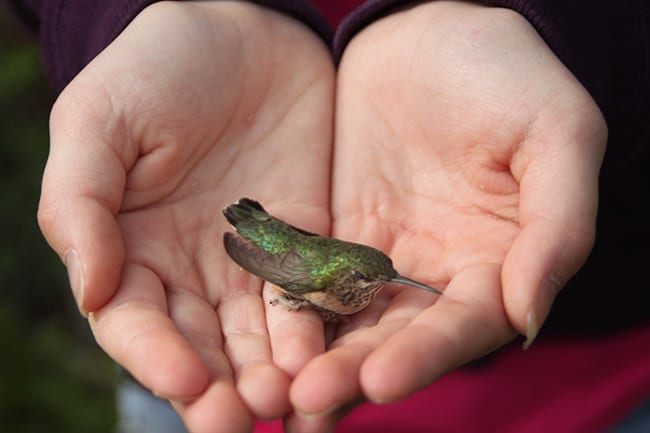 We've got over a dozen hummingbird festivals and bandings listed in EVENTS.
For places to visit, and see lots of hummingbirds, click on this… PLACES TO VISIT IN THE USA.
(We'd list them all here but you might never make it to #2 in the list of cabin fever cures)
2. Take a dream, hummingbird-focused eco-tour!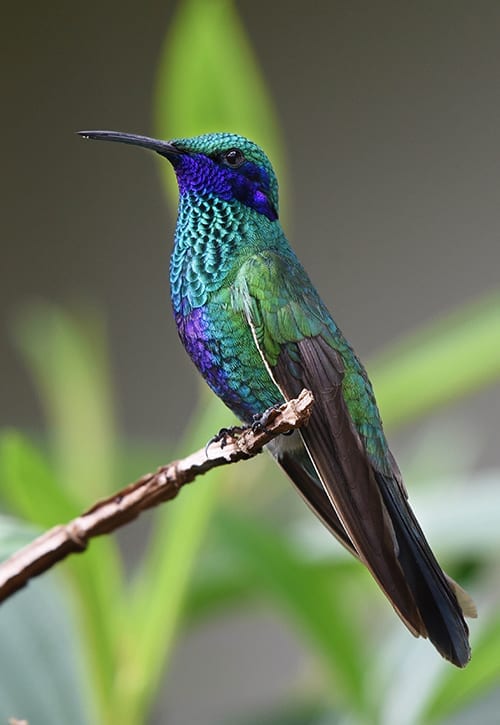 Why not??? Central and South America are beautiful! The weather is fabulous and there are scads of incredible hummingbirds, not to mention lots of other amazing birds. C'mon, life is short. Just do it! Maybe even save your receipts to turn in to your health insurance company. Hey, medicinal purposes, right??
We've got a few highly recommended destinations for hummingbird enthusiasts in our PLACES TO VISIT OFF THE CONTINENT.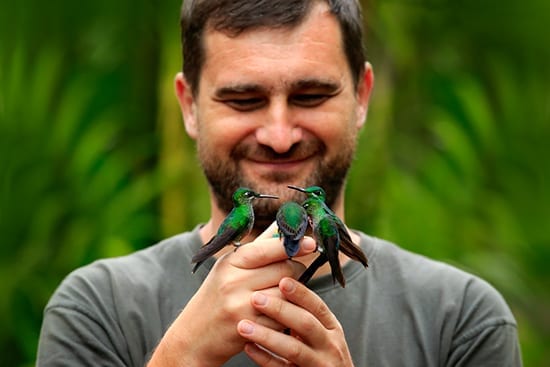 There are many other great places to visit. These are just a few to get you started.
3. Make a New Year's resolution to keep your feeders clean and full
This should only take a couple of seconds so, on to #4…
4. Look for hummingbird nests. Get the grandkids involved!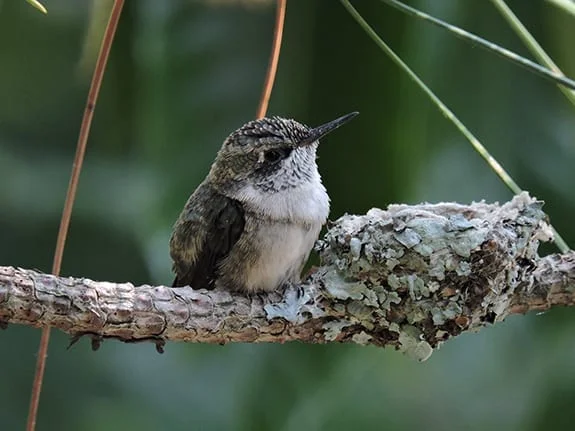 Winter is the best time to look for hummingbird nests. They prefer to nest in deciduous trees & shrubs so, with the leaves gone, it's easier to spot the tiny nests. EasiER, not easy. Dress warm and maybe bring binoculars.
IMPORTANT: If you spot a nest, DON'T bother it! They often return to nests and use them again.
Don't waste time looking for nests in busy bird areas, like your backyard full of bird feeders. "Contrary to popular belief, hummingbirds generally are not backyard nesters but prefer isolated or semi-isolated environments or undisturbed forest for their nesting sites. Most hummers will return to the same nest site each year and either build upon the existing nest or build a new nest if the old one was destroyed."

Thomas G. Barnes, Ph.D., Associate Extension Professor and Extension Wildlife Specialist, Department of Forestry

(http://www2.ca.uky.edu/agcomm/pubs/for/for97/for97.htm)
5. Start collecting nesting material for your birds
Providing nesting material is big help for hummingbirds, and all birds for that matter. You can collect material and make a nice looking "bird ball". You can also purchase them but making a couple of them is a great winter project that doesn't require any skill. Another grandkid activity! For more detail about what materials to collect, as well as how to make a nest support, see our blog: "Providing nesting material and locations for your Hummingbirds"
6. Put the migration map link on your smart phone
This map is updated daily so you can see when the first hummers are almost to your area. With this information, you'll know when to put your feeders out in time to catch those first hummingbirds and let them know that your yard is where all the cool birds are. You could even be pro-active by checking the dates of the 2018 first arrivals and get your feeders out in time to be one of the people who report a first-sighting. Pretty exciting stuff, eh?? Here's the MAP link. (https://maps.journeynorth.org/map/?year=2019&map=hummingbird-ruby-throated-first)
7. Post some of your favorite hummingbird pics & videos on our FB page

8. Check our Events Calendar to see if we're at a show near you
Spend a couple hours indoors, walking through gardens, enjoying ponds, and all sorts of un-winter-like stuff while sipping a latte or glass of wine. It's a great way to shake off cabin fever plus we'd love to meet you so stop by! Our Spring shows