The burning question this time of year is, 'When to put out hummingbird feeders?' Most of us don't think about this until it's too late. Here you'll learn when to put out your hummingbird feeder in Spring.
Something usually triggers us to wonder 'When to put out hummingbird feeders?' Those triggers are usually one of these…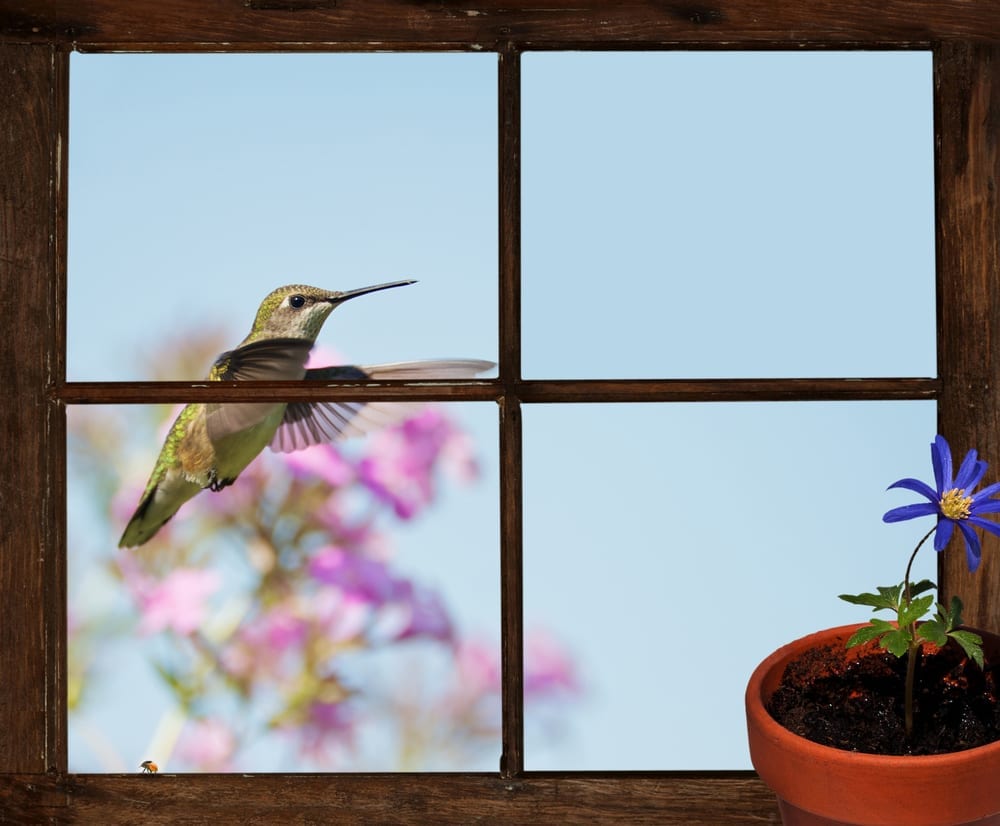 The weather is getting warm.
We see a hummingbird post or article.
There's a hummingbird at the window. We panic.
The trouble with situation #3 is that it's too late. You'd be really lucky if the hummingbird stuck around while you dug out your feeder, made nectar, filled the feeder, and ran it outside. It'd be especially amazing if it was still there after seeing the panicked human running through the yard with nectar spilling all over.
Unless you're that lucky, the arrival of that first hummingbird will probably go unnoticed. If there's no feeder there, the hummingbird must quickly move on to find food. Hummingbirds must eat so often that they can't afford to wait around. Because of this, the first hummingbird's visit can be very brief. Consequently, the early arrivals are easily missed.
Knowing when to put out feeders helps them survive
It's also one of the best ways to lure them away from the neighbors
It's not a secret. That's what most of us want to do. If you know when to put out hummingbird feeders in Spring, odds are you'll be the first one with feeders ready. That means you're the only one with feeders out. As a result, you could greatly increase your ratings in the hummingbird world. The only feeders available are going to be where the hummingbirds are, especially before flowers bloom and bugs are out. Sure, it's not 100% because hummingbirds remember where ALL the feeders are in the area. Naturally, they'll still keep track of them. Gotta keep all the options open.
Don't wait for warm weather to put out feeders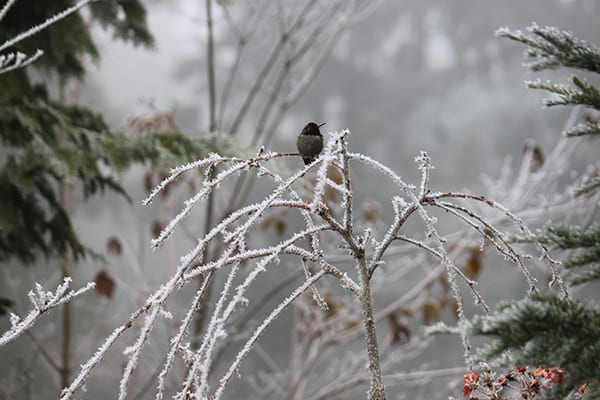 Many people don't put out their hummingbird feeders until the weather warms up. If there's late cold, or snowy weather, they wait until better weather. This is exactly what not to do. Any early arriving hummingbirds caught in bad weather, with no food, quickly perish. Cold, snowy, or rainy weather means the hummingbirds will be desperate need your feeder more than any other time. If it's going to get cold enough to freeze the feeder, no worries. There are some easy DIY ways to keep it thawed, even warm, for the little sprites. Our previous blog "Feeding Hummingbirds in Freezing Weather" tells all about it.
SO, when DO the hummingbirds arrive???
Here's a cheat sheet to know just when to put out hummingbird feeders in Spring
Of course, it depends on where you live. Some hummingbirds have already arrived at their summer homes. The good news is you don't need to tax your memory or try guessing. Just use this super handy migration map to see when the first arriving hummingbirds are getting close. Then you can get that feeder, and basket of flowers, out in plenty of time. It can be downright exciting – instead of panicked. You never know… maybe you'll be able to report a first-sighting. On this same map, you can also look at the previous years' arrival dates, which is helpful for planning.
Have your hummingbirds arrived?
When did your hummingbirds arrive? Please share with everyone, by commenting.